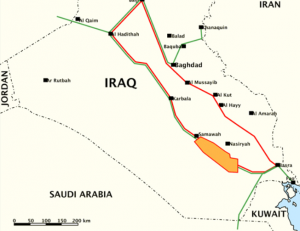 It is approximately 120 km west of Basra and covers an area of around 5,500 km2.
Name: Block 10
Controlled by: Ministry of Oil (Baghdad).
Location: The block lies in Muthanna and Dhi Qar, approximately 10 km southwest of Nasriya city.
The block is located on the border between the hydrocarbon rich Mesopotamia tectonic zone and the largely unexplored Salman zone. It includes the Eridu oil field.
Developed by: Lukoil (60%), Inpex (40%)
Contract granted: Fourth licensing round (2012)
Remuneration: $5.99 per barrel of oil
For latest news on the project please click here.
A full list of oil and gas fields controlled by the Ministry of Oil in Baghdad can be found here.