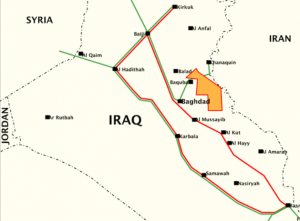 Name: Block 8
Controlled by: Ministry of Oil (Baghdad).
Location: The block lies within the east central part of Iraq, about 40 km east of Baquba and about 110 km east of Baghdad and covers an area of around 6,000 km2.
The block is on the border between the productive Mesopotamia tectonic zone and Foothill Zones on trend with hydrocarbon bearing structures in both zones.
Developed by: Pakistan Petroleum (PPL)
Contract granted: Fourth licensing round (2012)
Remuneration: $5.38 per barrel of oil
For latest news on the project please click here.
A full list of oil and gas fields controlled by the Ministry of Oil in Baghdad can be found here.