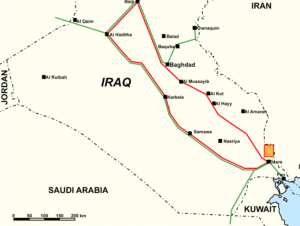 Name: Block 9
Controlled by: Ministry of Oil
Location: The block lies in the southern part of Iraq, approximately 20 km north of Basra city adjacent to the Iraq-Iran border and covers an area of around 900 km2. It is close to infrastructure and numerous producing and appraised oil fields.
Discovery: September 2014, December 2014
Developed by: Kuwait Energy (KEC) (60%), Dragon Oil (30%), Egyptian General Petroleum Corporation (EGPC) (10%). Was originally KEC (40%), Türkiye Petrolleri Anonim Ortaklığı (TPAO, Turkish Petroleum) (30%), and Dragon Oil (30%), but the Iraqi government expelled TPOA, following which KEC took over the TPOA share. KEC then agreed a farm-in with EGPC.
Contract granted: Fourth licensing round (2012)
Contract duration: If Block 9 is found to be commercial during the five-year exploration period, during which time the consortium is eligible for a possible renewal for another two years twice, the consortium is automatically eligible for 20-year development and production phases, extendable by a further five years.
Remuneration: $6.24 per barrel of oil
Other companies involved in the development: Egyptian General Petroleum Corporation (EGPC), Iraqi Drilling Company (IDC)
For latest news on the project please click here.
A full list of oil and gas fields controlled by the Ministry of Oil in Baghdad can be found here.