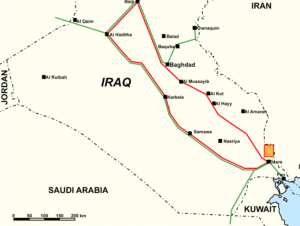 Name: Block 9
Controlled by: Ministry of Oil
Location: The block lies in the southern part of Iraq, approximately 20 km north of Basra city adjacent to the Iraq-Iran border and covers an area of around 900 km2. It is close to infrastructure and numerous producing and appraised oil fields.
Discovery: September 2014, December 2014
Developed by: Kuwait Energy (KEC) (60%), Dragon Oil (30%), Egyptian General Petroleum Corporation (EGPC) (10%). Was originally KEC (40%), Türkiye Petrolleri Anonim Ortaklığı (TPAO, Turkish Petroleum) (30%), and Dragon Oil (30%), but the Iraqi government expelled TPOA, following which KEC took over the TPOA share. KEC then agreed a farm-in with EGPC.
KEC was later acquired by Hong Kong-based United Energy Group Limited (UEG), through its wholly-owned subsidiary Gold Cheers Corporation Limited.
In a statement to the Hong Kong Stock Exchange, UEG said:
"Kuwait Energy Basra Limited is a limited liability company incorporated in British Virgin Islands and an indirect wholly-owned subsidiary of the Company.
"KE Basra is the operator of the Block 9 contract area located in the Basra Governorate, Southern Iraq, pursuant to the Exploration, Development and Production Service Contract with the contracting parties of Basra Oil Company (an Iraqi State Oil Company), KE Basra, Dragon Oil (Block 9) Limited and Egyptian General Petroleum Corporation."
Contract granted: Fourth licensing round (2012)
Contract duration: If Block 9 is found to be commercial during the five-year exploration period, during which time the consortium is eligible for a possible renewal for another two years twice, the consortium is automatically eligible for 20-year development and production phases, extendable by a further five years.
Remuneration: $6.24 per barrel of oil
Other companies involved in the development: Egyptian General Petroleum Corporation (EGPC), Iraqi Drilling Company (IDC)
For latest news on the project please click here.
A full list of oil and gas fields controlled by the Ministry of Oil in Baghdad can be found here.