By Reidar Visser.
The following article was published by Reidar Visser, an historian of Iraq educated at the University of Oxford and currently based at the Norwegian Institute of International Affairs. It is reproduced here with the author's permission. Any opinions expressed are those of the author, and do not necessarily reflect the views of Iraq Business News.
The Iraqi elections commission IHEC released on Saturday the final results of the provincial elections on 20 April. The seat distribution, presented below with figures from 2009 in parentheses, largely confirms the picture that emerged from initial results.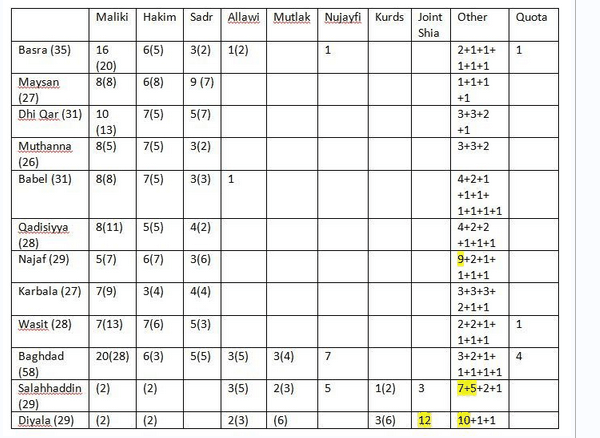 Among the Shiite Islamist parties, Prime Minister Nuri al-Maliki has lost some seats in some governorates but is still the biggest seat winner, with particularly strong positions in the governorate councils of Baghdad and Basra. Despite internal splits, ISCI has done a moderate comeback in several governorates. The Sadrists won back Maysan but otherwise are not making big advances; in Najaf, a local list is the biggest winner, exactly as in 2009. It is noteworthy that the Shiite parties that ran together in Diyala managed to emerge as the biggest winner with 12 seats; this will certainly be seen by some as an indication of increased sectarian polarization.