By John Lee.
Shares in Genel Energy, the London-listed exploration and production company and largest independent oil producer in the Kurdistan Region of Iraq, were down more than 2 percent on Tuesday after the company announced its unaudited half year results to 30 June 2014.
Results summary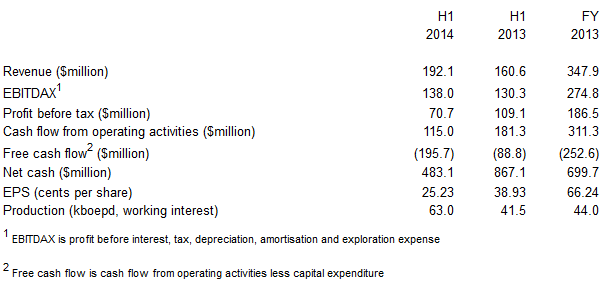 Highlights
Genel's operations in the Kurdistan Region of Iraq (KRI) remain safe and secure
Significant volume growth in H1 2014, average net working interest production of 63,000 boepd represents c.50% uplift on H1 2013
Progress towards sustainable KRI pipeline exports - first cargo lifted from Ceyhan in May and proceeds from first sale received in a Turkish bank account controlled by the Kurdistan Regional Government (KRG)
First gas from Summail development delivered to Dohuk Power Station in May
H1 2014 revenues of $192 million, up 20% on H1 2013, excludes $40 million of export revenue owed but not recognised
H1 2014 EBITDAX of $138 million, up 6% on H1 2013 principally as a result of higher revenue
Cash balances at end H1 2014 of $974 million following high-yield bond issue; net cash of $483 million at period end
Exploration update
Material Dilolo prospect offshore Angola spudded in June, drilling operations scheduled to take up to 5 months to complete
Nour prospect on Sidi Moussa licence offshore Morocco spudded in late July and is expected to take two to three months to complete
Outlook
2014 production (60-70,000 boepd), revenue ($500-600 million) and capex guidance ($550-600 million) unchanged
Good progress negotiating a gas sales offtake agreement (GSOA) for Miran and Bina Bawi; expected to conclude by year-end 2014
Commenting today Tony Hayward (pictured), chief executive, said:
"Operational momentum in the KRI is increasing, with the opening of the KRI-Turkey pipeline resulting in a significant rise in our production. Whilst we continue to monitor the situation closely, our operations in Kurdistan have been unaffected by events elsewhere in Iraq.
"The KRG has successfully sold oil exported through Ceyhan at international prices, and we expect our production to increase further in the second half of the year as sales become regular and payments predictable.
"The signing of the gas sales offtake agreement for Miran and Bina Bawi will be transformational for our gas business, and will provide a clear path to monetisation of this world-class resource.
"With the GSOA expected to be signed before the end of the year, and drilling underway on high-impact prospects offshore Angola and Morocco, the Company is set to make material progress in the second half of 2014."
(Sources: Genel Energy, Yahoo!)