National Overview
Nationally recorded incident levels stayed at 108 this week, a level consistent with the most reporting periods throughout the year. There was little variation in week on week incident numbers for each of the regions.
The north central and Baghdad regions continued to account for the majority of hostile incidents. The north central area experienced 36 hostile incidents, consistent with previous reporting periods. The number of hostile incidents in Baghdad was similar to the previous reporting period at 28.
The highest impact attack occurred on 18 July when a suicide bomber detonated an explosive vest, killing at least 48 members of Concerned Local Citizens and Iraqi Security Forces personnel as they queued for their wages in a Sunni district of Baghdad. Despite improvements in security that has seen a reduction in 'spectacular' attacks, al Queada in Iraq and their associated movements continue to perpetrate such attacks from time to time, providing them with much needed publicity.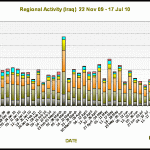 The north and north central areas were very active again with Iraqi Security Forces in Mosul being targeted with hand grenades and suicide vests amongst the methods of attack. A suicide car bomb was used to target a Private Security Company convoy on 19 July in Mosul. US bases in Balad and Kirkuk received a higher proportion of indirect fire attacks than usual and elsewhere in the region Concerned Local Citizen personnel and their families were targeted with assassination and intimidation attacks.
Al Qaeda in Iraq and their associated movements continued to attempt to regain influence in the western region by conducting attacks in the Fallujah, Ramadi and Hit areas with small arms fire and under vehicle improvised explosive devices.
Assassination attacks will continue to destabilise security, as politicians, security force officials and other pro-government forces and government associates are targeted.
Elections Overview
On 18 July the Head of al-Iraqiya list, Iyad Allawi, and the Head of Sadr Movement, Muqtada al-Sadr, met in the Syrian capital Damascus to discuss ways of progressing the Government forming process. Sources in the Sadrist movement have spoken positively of the meeting and made it clear that Allawi is far more open to negotiations on key Government posts that Prime Minister Maliki. This meeting may have been designed by both the al Iraqiya list and Iraqi National Alliance as a way of provoking action from the State of Law Party. An alliance between the Iraqi National Alliance and al Iraqiya is certainly the most unlikely of the possible alliances.
Following on from the Damascus meetings it was reported that Iraqi Prime Minister Nouri al-Maliki would hold a meeting on the afternoon of 20 July with Head of al-Iraqiya List Iyad Allawi to discuss ways of solving the current political crisis, "The meeting came in response to an invitation from al-Maliki in an attempt to solve the current crisis among political blocs," a source told an Iraqi news agency. The meeting is probably an indication that al Maliki is worried about being sidelined and may force him to be more flexible in negotiations.
Meanwhile the spectre of an election re run has been raised again. The possibility of another election was raised by the Kurdish Alliance some weeks ago, and it has been brought up again by Iraqi Member of Parliament Jamal Al-Din.
"This long delay in forming a government will make the likelihood of United Nations intervention considerable, particularly that Iraq is still under its authority," he said.
"A small number of representatives of the political blocs deputies have confiscated the right of the other MPs to participate in the political process, in order to overcome the difficulties and to demonstrate the flexibility in the negotiations," Jamal Al-Din added.
A new election is deemed as unlikely as there is little appetite for it amongst ordinary Iraqi's. Also, security around such an event would be tough given that US Forces are now drawing down. It seems that the political horse training is likely to enter yet another week with little immediate prospect of a solution.
Baghdad
Incident levels were relatively low a the start of the week with USF-I taking the brunt of attacks in the form of IEDs on route Tampa and IDF attacks against FOB Falcon. Hostile incidents soon returned to normal levels helped in part by a return to form from Shia'a insurgents who were subdued last week as the 7th Imam pilgrimage took place. There were three EFP strikes against USF-I patrols during the week, all attributed to Shia'a groupings.
Sunni insurgents continued harassment and intimidation attacks against off duty ISF and GoI targets, resulting in a number of deaths and injuries, most notably a SAF and IED attack that killed five members of an IPS officer's family. A VBIED attack using a bicycle was effectively targeted in Mahmudiyah resulting in one fatality and several injuries.
On 18 July a suicide bomber detonated an explosive vest, killing at least 48 members of Concerned Local Citizens and Iraqi Security Forces personnel as they queued for their wages in a Sunni district of Baghdad.
The International Zone was ineffectively targeted with indirect fire on 17 July and was probably the work of Shia'a insurgents. Attacks of this nature rarely inflict significant damage or casualties and perpetrated for the symbolic value that the International Zone holds.
Basra Province
Incident numbers in the south east region increased slightly from five to six during this reporting period, with four of the incidents occurring in Basra, which is in line with expectations.
On 15 July at approximately 0830hrs, a Private Security Company was effectively targeted with an explosively formed projectile on route Tampa, close to the junction with route Atlanta. The device damaged the vehicle but did not cause any serious injuries. There have been four roadside bomb attacks against Private Security Company convoys on a 4km stretch of Tampa going north from the Atlanta/Tampa checkpoint since May. There is no concrete evidence that insurgents are specifically targeting Private Security Companies, however, the statistics for this small stretch of highway give food for thought.
There was an improvised explosive device found on route Minden to the east of Basra City, on 17 July and followed an increased threat warning for the area. There have only been two attacks on route Minden this year, both against US Forces. It would seem that insurgents are looking to up the tempo of attacks against US Forces in this previously quiet area.
On 19 July at approximately 2100hrs, an improvised explosive device detonated in Basra City. The target of the attack is unknown; however, most night time attacks in the city target US Forces.
On 20 July a Private Security Company escorting a convoy from the Kuwaiti border reported being attacked with small arms fire and rocket propelled grenades in a desolate area 20km north of the border. This attack does not fit Shia'a insurgent modus operandi and is assessed to have been criminal activity, perhaps an attempted hi-jacking.