Genel Energy plc has announced its preliminary audited results for the year ended 31 December 2012.
Highlights
Consolidated our position as the leading independent oil and gas producer in the increasingly attractive Kurdistan Region
Current production capacity of circa 80,000 bopd (net), with 2012 average net working interest production of 44,500 bopd in line with guidance
Significant resource additions acquired in the Kurdistan Region: 44% interest in Bina Bawi and additional interests in Miran (75%) and Chia Surkh (40%), adding over 750 mmboe of net contingent and unrisked prospective resources
High impact African exploration portfolio established with material positions acquired in Somaliland, Morocco, Malta and Côte d'Ivoire, targeting net unrisked prospective resources of over 3.3 billion boe
Substantial growth in resource base: Proven and probable reserves (2P) increased to 445 mmboe (2011: 412 mmboe), total working interest reserves and unrisked resources increased to 5.4 billion boe (2011: 1.6 billion boe)
Free cash flow positive for the year, with capital expenditure on exploration, appraisal and development in the Kurdistan Region of Iraq funded entirely from strong operating cash flow of over $300 million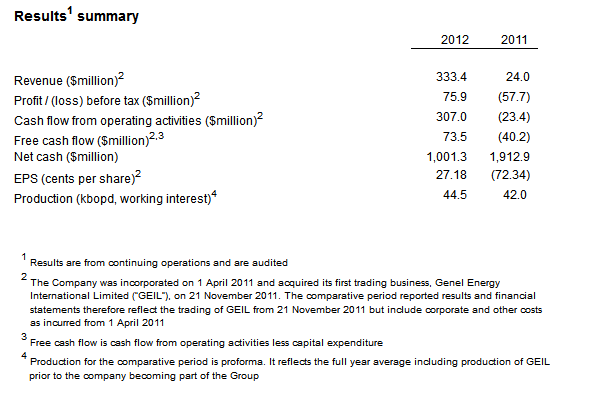 Outlook
Continuing progress on the new export pipeline infrastructure in the Kurdistan Region (construction of first phase operational in first quarter 2013)
Average net working interest production for 2013 expected to be in the range of 45,000 - 55,000 bopd, generating revenues of $300-400 million dependent on the level of any export sales
Appraisal and development programmes at Taq Taq and Tawke on track for 140,000 bopd (net) production capacity in 2014
Kurdistan exploration programme comprises 4 high impact wells targeting over 750 mmboe gross unrisked resources in 2013: Tawke Deep and Chia Surkh 10 currently drilling, Taq Taq Deep to be spudded in Q1 and Chia Surkh 11 in Q2
Appraisal programmes underway on both Miran and Bina Bawi, targeting Final Investment Decision on phased development of both fields by the end of 2013
Work programmes underway across African portfolio to develop prospect inventory; advanced negotiations to secure a rig for the drilling programme on going with first well targeted in Morocco in the fourth quarter of 2013
Strong balance sheet with significant cash resources of circa $1 billion available for future business development
Commenting today Tony Hayward (pictured), chief executive, said:
"Genel made significant progress in 2012, delivering substantial production capacity growth at our flagship Taq Taq and Tawke fields as well as consolidating our leading position in the increasingly attractive Kurdistan region through material additions of world-class resource.
"We believe that we are strategically well placed to benefit from Turkey's growing influence in the region and further afield. We are also pleased to have built a high impact African exploration portfolio to diversify the business and add over 3.3 billion barrels of prospective net resource to our asset base.
"2013 promises to be another exciting year for Genel with four high impact exploration wells and a major appraisal and development programme in Kurdistan, as well as the initiation of a major exploration programme in Africa. We are well on the way to building a material exploration and production company."
(Source: Genel Energy)