By Ahmed Tabaqchali (pictured), CIO of Asia Frontier Capital (AFC) Iraq Fund.
Any opinions expressed are those of the author, and do not necessarily reflect the views of Iraq Business News.
While Iraq's war against terror is far from over, the conclusion of the Mosul offensive should mark the high point in the cost of war, and its gradual de-escalation has positive implications for the economy that will be explored here.
But first a quick look at the dynamics of Iraq's economy.  The economy is driven by the state, which derives over 90% of its revenues from oil exports, while its spending dominates all aspects of the economy.  It employs over 50% of the work force and is the largest player in the non-oil economy with its orders/contracts driving multiple industries.
The double whammy of the Da'esh invasion of one third of the country and the collapse of oil prices in 2014 had a devastating effect on the economy as government finances were crushed by soaring expenses and plummeting revenues.
The diversion of resources to a war footing with escalating military spending, escalating spending on IDP's[i] at over 10% of the population while maintaining basic services forced the government into dramatic cut backs that had knock effects on the economy.
Exacerbating the economic contraction was the fact the economy started a slow-down in early 2014 due to the uncertainties and violence ahead of the elections in April 2014.
The government's response to the crisis can be seen over three distinct phases almost mirroring the military progress to date: Mid 2014-late 2015 was dominated by shock treatment in response to the severity of the crisis; late 2015-late 2016 saw the emergence of economic strategies to address the crisis; and early 2017 onwards builds on the economic strategies and plans for post-conflict reconstruction and rebuilding.
The table below shows the three phases over the four-year period: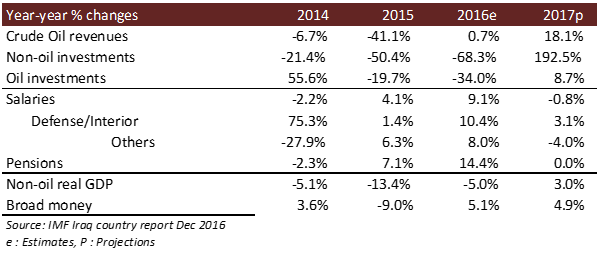 Moreover, the responses were felt over three different categories of government spending; salaries and pensions, oil and non-oil investment spending and military capital spending (military and security salaries included in overall salaries).