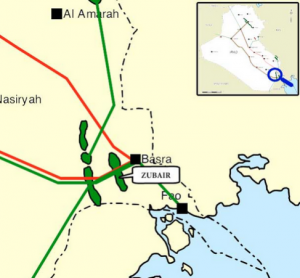 Name: Zubair
Controlled by: Ministry of Oil (Baghdad).
Location:  20 km south-west of the city of Basra.
Discovery:  1949
Reserves:   4 billion barrels of oil
Developed by:  Eni (32.81%), Kogas (18.75%), Maysan Oil Company (25%), South Oil Company (23.44%).
Occidental had a 23.44 percent share in the field, but relinquished it to the state-owned South Oil Company in October 2016.
Contract granted: 2010
Contract duration:  20 years, later extended to 25 years (ending in 2035).
Remuneration: $2.00 per barrel of oil in excess of 220,000 bpd
Plateau production target:  1.125 million bpd by 2017, later lowered to 850,000 bpd.
Other companies involved in the development:  Weatherford, Daewoo, Samsung, Petrojet, John Crane (Smiths Group), Amarinth, ALE.

For latest news on the project please click here.
A full list of oil and gas fields controlled by the Ministry of Oil in Baghdad can be found here.