Gulf Keystone Petroleum (GKP) announced on Thursday the release of an updated independent third-party audit of the Company's Reserves, Contingent Resources and Prospective Resources for its oil & gas interests in the Kurdistan Region of Iraq, including the Shaikan and Sheikh Adi fields operated by Gulf Keystone.
Today's updated Competent Person's Report ("CPR") was again prepared by ERC Equipoise ("ERCE") and follows the first report published in March 2014. The updated CPR is available on the Company's website at http://www.gulfkeystone.com/investor-centre/presentations-and-technical-reports.
The focus on the Shaikan field has evolved from oil-in-place to recoverable reserves and the updated CPR highlights the enhanced understanding of the field.  With over 15 million barrels now produced from the Jurassic, the substantial production and reservoir data acquired over the last 18 months have given a much improved understanding of the field's recovery mechanism.
The Company now has greater certainty in its ability to develop the increased 2P Reserves - fewer wells and reduced capex per barrel will feature in the updated Shaikan Field Development Plan ("FDP").
Shaikan
1P Reserves have increased by 55% compared to the March 2014 1P estimate from 198 to 306 million barrels gross, which is greater than the original 2P estimate

2P Reserves increased by 114%

from 299 to 639 million barrels gross, significantly de-risking the field's commerciality

The field's recovery mechanism, now recognised as being by solution gas rather than a water drive, results in greater predictability of field performance, increased reserves per well and lower capex per barrel

Sheikh Adi
Work on an FDP for the appraisal area is underway

FDP approval is expected to lead to a future re-classification of 2C Resources (currently at 112 million barrels gross) to 2P Reserves

A new prospect in the north-west of the block identified with 169 million barrels gross of Prospective Resources
CPR Methodology
ERCE has audited the reserves assessment in compliance with PRMS/SPE reporting guidelines.
The table below represents the updated CPR's conclusions on Shaikan Reserves, Contingent Resources and Technically Recoverable Volumes(1) in comparison with the March 2014 CPR: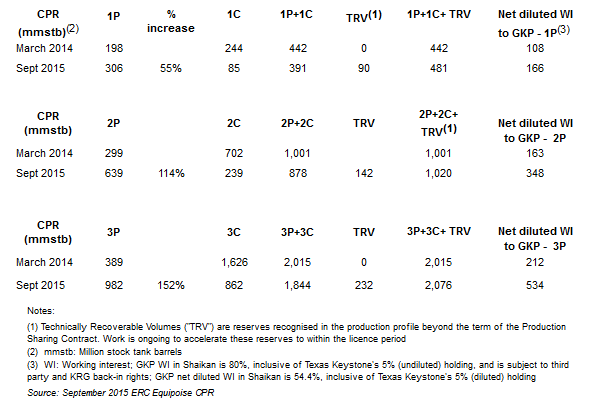 Commenting on the publication of the updated CPR, Jón Ferrier (pictured), CEO, said:
"Today's announcement is a further independent endorsement of the calibre of Shaikan as a world-class field. With cumulative production to date of over 15 million barrels, the Company benefits from a vastly increased dataset and a far greater understanding of the reservoir."
"Our technical confidence has markedly improved. In what was already a low production cost operation in the Kurdistan Region, the Company is working on an updated FDP to develop the increased 2P Reserves with fewer wells, lower capex per barrel and greater reserves per well."
(Source: Gulf Keystone Petroleum)