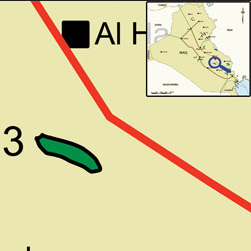 Name: Garraf, also known as Gharraf, Algharraf.
Controlled by: Ministry of Oil (Baghdad).
Location: Dhi Qar Governorate in southern Iraq, 5 kilometres (km) north west of Al-Refaei city, 9 km south-east of Qal'at Suker city and 85 km north of Nasiriyah.
Discovery: 1984.
Reserves:  860 million - 1 billion barrels of oil.
Size: The field is 17.5 km long and 5.5 km wide.
Quality: Oil found ranges in gravity from 15 to 36 °API, in multiple reservoirs.
Developed by: Petronas (45%), Japex Garraf Ltd (30%), North Oil Company (25%). (Japex Garraf Ltd is owned as follows: Japex 55%, Mitsubishi Corporation 10%, and JOGMEC 35%).
Contract granted: Second licensing round (2009).
Contract duration: 20 years.
Remuneration: Service contract, $1.49 per barrel. Payment share: Petronas 60%, Japex 40%.
Production started: August 2013, at 35,000 barrels of oil per day.
Plateau production target: 230,000 bpd by 2017. (Based on the Final Development Plan approved by the Government of Iraq in 2018, the field is undergoing further development in stages to achieve crude oil production of 230,000 barrel per day by end of 2020).
As of the end of March 2019, production volume in the field is approximately 90,000 barrel per day at average.
Other companies involved in the development: STX, Zhongman Petroleum and Natural Gas Group, UMW, Schlumberger, Weatherford, Kavin Engineering, Ergil, Baker Hughes, Iraqi Drilling Company (IDC).
For latest news on this project please click here and here.
A full list of oil and gas fields controlled by the Ministry of Oil in Baghdad can be found here.